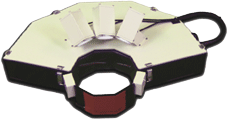 The Multi-Angle Snowflake Camera (MASC) takes 10 to 30 micron resolution photographs of hydrometeors from three angles while simultaneously measuring their fallspeed. The cameras are triggered by a vertically stacked bank of sensitive infrared motion sensors designed to filter out slow variations in ambient light. The triggering is auto-calibrated, and sensitive to snowflake sizes ranging from 100 micrometers to 3 cm (30,000 micrometers). Fallspeed is derived from successive triggers along the fall path. Photographs are obtained at a speed of up to 1/40,000th of a second and the hydrometeors are illuminated by three 40 W LEDs rated at 2700 lumens each.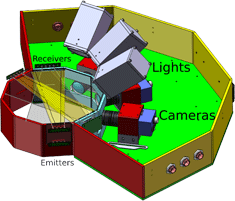 The instrument is robust to cold and weather and runs unattended. Calibration is limited to occasional camera alignment and lens focusing using a calibration tool that attaches to the instrument. Software is included for image and fallspeed acquisition and display on PC platforms and for creating a live internet feed from the installation site. The executables include lossless (png) image compression to facilitate with data management. Tens of thousands of images might be obtained in a single day. Scientific analysis scripts are available for detailed post-processing.
Technical details are available in the specifications PDF.
For more information or to request a quote, please reach out to us at info@particleflux.net.
Garrett, T. J., Yuter, S.E., Fallgatter, C., Shkurko, K., Rhodes, S. R. and Endries, J. L., 2015: Orientations and aspect ratios of falling snow. Geophys. Res. Lett., 42, 4617-4622, doi:10.1002/2015GL06404
Garrett, T. J. and Yuter, S. E: Observed influence of riming, temperature, and turbulence on the fallspeed of solid precipitation Geophys. Res. Lett. doi:10.1002/2014GL061016
Garrett, T. J., Fallgatter, C., Shkurko, K., and Howlett, D., 2012: Fallspeed measurement and high-resolution multi-angle photography of hydrometeors in freefall. Atmos. Meas. Tech., 5, 2625-2633, doi:10.5194/amt-5-2625-2012